Volunteer
Do you love our community and want to help support our mission to collect, preserve, and interpret the history of Yaphank and the surrounding area? The Society welcomes and needs volunteers to help keep things running smoothly. Please consider sharing your time and talents with us.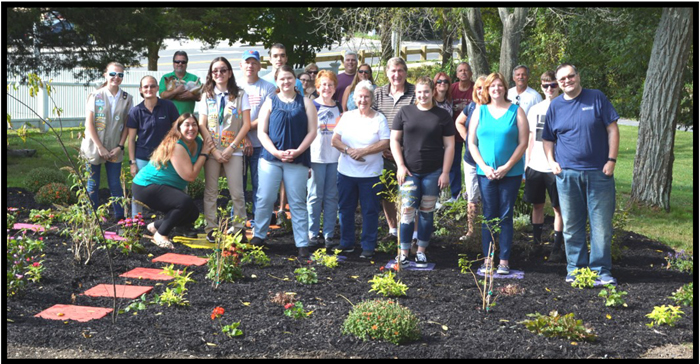 Docents
Do you like meeting new people? Do you want to spend an afternoon getting to know neighbors and visitors? Join our docents! Docents are our ambassadors, greeting visitors and answering questions at the Robert and Isabella Hawkins House, the Booth House Museum, the Homan-Gerard House, and the Swezey-Avey House. You can make a lasting impact on our visitors by sharing our history with them. Docents volunteering for the summer house tours work on Sunday afternoons from 1:00—4:00pm. Docent documentation for each house is available for you to use and special training is available. Docents are also sometimes needed during the holiday season, and for any special house tours arranged by appointment. 
Special Events

 
Do you love parties? We rely on volunteers to help with our special events throughout the year. If you have a fondness for the holidays, you can volunteer during our busy holiday season when we host the Historic District Christmas Tour. Volunteers are needed both on the day of the tour to welcome guests, but also during the weeks prior to the Tour to help decorate the historic houses. Other special events include the spring and fall Victorian Teas, spring and fall community Yard Sales, and many other one-of-a-kind special events. Being part of a team working toward the same goal is a great way to make new friends while at the same time helping the Society. 
Gardens
Do you love gardening? We are looking for volunteers to organize planting and maintenance of our gardens! We have several gardens in need of care—a butterfly garden at the Swezey-Avey House, an herb garden at the Booth House Museum, and a summer perennial garden at the Robert and Isabella Hawkins House. 
Maintenance & Repairs
Are you good at maintenance and repairs? Do you enjoy painting and carpentry? Our preservation projects can always use a helping hand. And every historic house has its share of odd jobs requiring assistance. Our new Swezey Park Gazebo was built by volunteers. 
Contact the YHS office for more information, 631-924-4803 or [email protected]